Happy Belated Christmas to all ny readers. This post was due to post yesterday but the scheduling option went on Christmas strike I think! I hope you all had a lovely day full of fun, family and food! Details on this card are all below…
I have a habit of creating non traditional cards for 'traditional' times of the year. I love taking what people love and creating cards based around that. In this case it was unicorns! The new Papermilldirect luster and sparkle print card was perfect for this. I used:
Papermilldirect Tea Rose Sparkle Card
Papermilldirect Brilliant Rose Sparkle Card
Papermilldirect Orchid Sparkle Card
Papermilldirect Bon Bon Sparkle Card
Papermilldirect Glaze Pink Lustre Card
Papermilldirect Maya Blue Lustre Card
Papermilldirect Misty Rose Lustre Card
I used a unicorn cutting file from the Silhouette store, edited slightly. I made a cutting map for myself on some scrap paper, deciding what colour I wanted what layer to be, before I cut anything.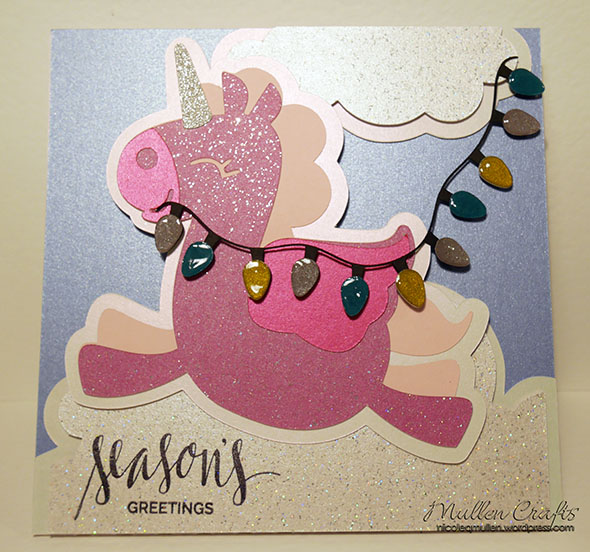 For the string of fairy lights I used:
Papermilldirect Smooth Black Card
Papermilldirect Teal Card
Papermilldirect Hena Gold Lustre Card
Papermilldirect Silver Sparkle Card
Once the lights were all strung together I added glossy accents over the bulbs to give a more realistic effect. These were then adhered to make it look like the unicorn was flying by with lights to decorate for Christmas. Totally plausible right?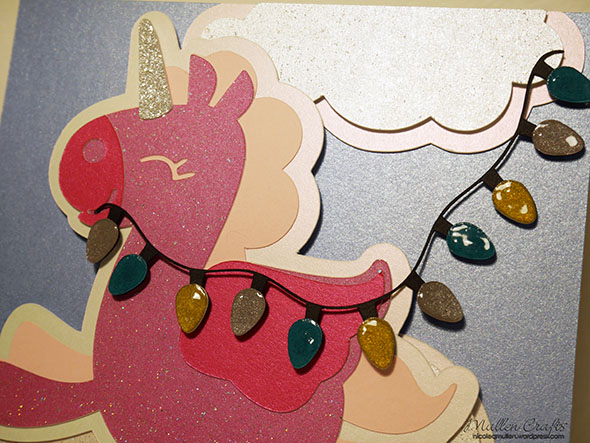 There is so much shimmer and sparkle on this card it is just brilliant!